*boing*
The full size images are on VCL under the thumbnails.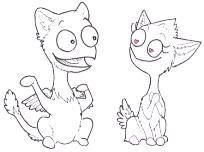 Bobbles! Aww. Cute, ne? (See, Steelwing, told'ja I'd getcha.
)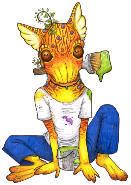 The asymmetry of this one displeases me. *grr* I'll have to redo those stripes, somehow. Mind you, they could stand to be darker - make it less lurid - so go figure.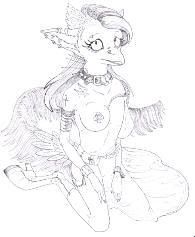 All together now: Aww.
I think it's a bit of a hangover from when she was just a computer; as she's very young, and doesn't have much of an imagination (yet), Mags likes to be told what to do, and will happily do pretty much anything she's been asked to do (at least at a visual level). This seems to stem from some of her most basic protocols - you know, the whole "computers only do what they're told" thing - and for now she still is happiest if she's just obeying instructions. She gets a lot of conflicting ideas, though - since everyone has a different idea of what is "best", and trying to combine everything into one entity just makes her confused and hideous. Garbage in, garbage out, and all that.
Edit: There, the links should all work now.
...And so to bed.
Some doodlings. I'm not sure if Magpie would be happy at the attention, or just feel picked-on.
Current Music:

Cream - The White Room