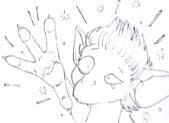 I have more artly stupids to be uploading! But first! Because the part of the "comic" I isolated to use as a thumbnail is so stupid, I just wanted to see if anyone could guess what it was about...
If anyone was wondering, yes, that
is
Iios' face. He seems to lend himself so very readily to incredible stupidity.
Have fun.
Edit: Thinking about it, I'm fairly sure everyone's going to be guite disappointed with the answer. But eh, whatever.